All About Reading Level 1 is now available! As I mentioned here, I have been looking through this curriculum and I am impressed. This is the level after Pre-1 (which we are currently using with my preschoolers), so is suitable for students ready to start decoding and reading. Just like the spelling series, everything is laid out for you. I love that! I also like that it incorporates 5 key components of reading:
Phonological Awareness
Phonics and Decoding
Fluency
Vocabulary
Comprehension
Starting Nov. 29 – Dec. 6th, you can get 10% off your order plus all level 1 orders will get a fun little treat too!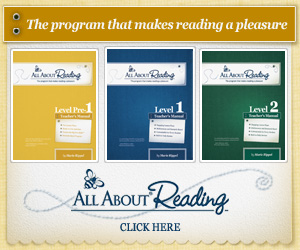 Disclosure: This is an affiliate link. Thank you for supporting this site.