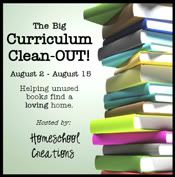 I have to admit that I kept flip-flopping on how I wanted to do my portion of the Big Curriculum Clean-Out, which I will refer to as BCCO as I'm too lazy to post The Big Curriculum Clean-Out over and over again 🙂 Do I do one give-away package or do I do multiple smaller prizes? I decided that I wanted lots of winners, so I've opted to do several smaller give-aways. The BCCO will go from August 2 – August 15. I will list my give-aways on Mon. August 3 and Mon. August 10. Winners from each week will be posted the following Sunday.
So for this week- August 2 – August 8:
Spell Outloud is my blog and I'm often asked why I named my blog that. Is it because we like to spell, and spell outloud? Is it some sort of cute educational code-name? Well, I will admit that I'm not very clever coming up with names. Spell is my last name. My husband came up with Spell Outloud and I thought it was cool so I took it a ran. 🙂 Lame story, I know but it brings me to my giveaway theme for this week—spelling! I will be hosting three (3) giveaways:
Giveaway has Ended === CLOSED
1. All About Spelling Level 1 Material Packet
2. Sequential Spelling 1 curriculum
3. SpellQuizzer Spelling software
You are free to enter all three if you want, just click the links and follow the entry rules. I want to be fair to my international friends, so I'm opening them up to everyone! Now if you win and you live in another country, you might have to give me specific mailing instructions, but I don't want you to miss out because of location.