Today's book is The Donkey's Christmas Song by Nancy Tafuri.
Summary: A shy, little donkey is afraid that his bray is too loud and will scare the little babe in the manger. All the other animals welcome the little one with their song. Finally the babe looks at the donkey. The donkey lets out his loud song and the baby laughs.
This is a cute rhyming book perfect for toddlers-K. The simple illustrations capture children's attention along with the rhyming text. Each animal makes their "song", which children enjoy saying too (the cow moo's, the dove coo's, etc.)
After reading the story, my little girls went to their Nativity set and had all the animals greet baby Jesus with their song.
I was reminded of one of my favorite childhood Christmas movies while reading this book– Nestor, the Long-Eared Donkey.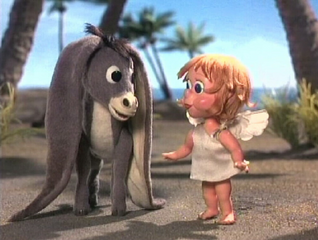 This movie told about Christ's birth in such a simple way, and Nestor always made me a little teary-eyed. I was captivated by the story, the emotion– and there is just something about the Arthur Rankin Jr. animation that fascinated me as a kid. Do you remember these movies? Please tell me I'm not the only one that old–lol! 🙂 I have this on my to-do list for this Christmas season– watch Nestor with my kids.
What has been your favorite Christmas book so far this season?