This semester I'm teaching a 50 states class for K-2nd at my local co-op. I know, normally it is in 4th grade where we see the big push to learn the 50 states, but this year since all the kids are doing some sort of American history, we decided it would be great make the K-2nd geography class focus on the 50 States.
I have 12 classes scheduled. Many of the ideas I share can easily be done with one or two students. At this age, my goal is to introduce the following concepts:
1. There are continents are large land masses and there are 7 of them in the world (students will learn the names and location of the 7 continents.)
2. The United States is on the continent of North America and is divided up into 50 states.
3. Students will start to identify the states and learn the state capitals (introductory– not mastery!)
I am going to try to accomplish these goals via hands-on activities, music, games and literature. I have my students for almost 2 hours (because really it was supposed to be 2 classes– geography and literature but I'm making the literature fit in to what we are learning with the states.)
Week 1: Learning the 50 States Class
Supplies
print out printable maps and globes booklet
shower curtain world map
globe

How to Make an Apple Pie and See the World

2 photo blocks (afflink)
I found this great maps and globes resource from Kinderkay over at Teachers Pay Teachers. You know, if I find a quality resource that saves me time, I get it! 🙂  I picked this printable pack because it was geared toward younger elementary and explained basic geography concepts at their level. I printed out the book and bound it with my plastic comb binding machine (I love that tool!) I used the book to review/introduce basic map and globe terms. Then we pulled out a globe and the shower curtain map and talked about the features in the booklet.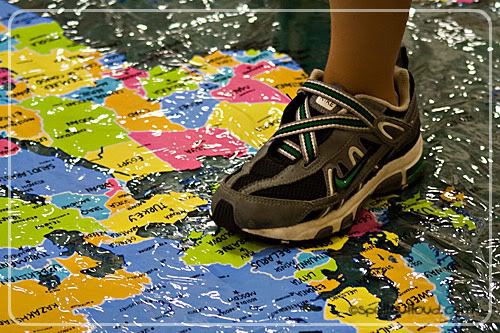 I have owned this shower curtain world map (afflink) for years and one thing I love to use it for is active learning! We jumped on the continents while singing The Continents song. (afflink)
Literature Connection
For our read-aloud, I chose How to Make an Apple Pie and See the World. Before reading the book, I gave each child a handful of apple pie playdough to squish, squeeze and roll while I read the book.
After we read the book, we played the Apple Pie Continents game (see supply list above.) This was a great way to review the story and practice naming the continents.
Week 2 : Learning the 50 States Class
I had a better sense of what my class would need this week. Since I teach at the end of the day, they need some active learning to help get the wiggles out.
Supplies:
shower curtain map
globe
red, green, yellow, orange, blue, and black construction paper
glue

The Scrambled States of America

 book
computer to watch video
We reviewed the continents by singing the song and jumping on the continents as we sang (we tried to see how fast we can sing it and if the person can keep up and jump on the right continents.) Next I showed them the 50 States video (they loved it!):

Then we talked about a compass and compass rose, the directions N/S/W/E  and that led into how we can divide the United States into 5 regions to help us remember where the states are located.
I posted this picture on Instagram and many people asked where I got this printable. No, this is not something I created! Once again I turned to Teachers Pay Teachers for help.
I will take two weeks to go over a region (giving us 12 classes total which includes the 2 review/basic geography term classes.) For my 2nd grade students, each one will get a little booklet to read for each region (included in the purchase above.) I might print out for the beginning readers as well and suggest a parent go over it with them. This download contains the map template for the craft shown below.
Literature Connection:
Before reading, I handed each student a stack of colored paper strips (red, yellow, orange, blue, and green) and told them that while they were listening to me read The Scrambled States of America (afflink), they needed to tear the paper into small pieces making sure to make a separate pile for each color. (Yes, for each read-aloud I am purposefully planning to have them do something while listening.)

After reading the book, I had them glue the torn pieces in the appropriate region based on the map legend on the printable. Then if their map was not pre-cut, I cut them out and had the students glue the map on a piece of black construction paper.
The maps turned out great! Next week we'll focus on the Northeast!
For more geography resources see:
Continent Hop Geography Game (free printable)
 Other Posts in This Series:
Learning about the Northwest Region of the U.S.A.
Learning about the Southeast Region of the U.S.A.
5 Regions of the U.S.A. Co-op Class