I first created I Spy cards for my kids and I to carry along on our nature walks. It gave the kids a goal of something to find and helped them to be observant. These printable cards can be used inside too.
1. Use the I Spy cards as a word bank. I like to put them in our (ad) table-top pocket chart. In this example I have the garden I Spy cards up. We talked about which fruits and veggies we have tasted, which ones we like/didn't like, talked about colors, which grew on trees and which didn't and more. It is a great way to get a conversation with your young child going!
2. Play a memory game. I placed all the cards except for the title card in the pocket chart. Then I place the title card over an image. My children had to guess what was under the title card. If you play this with young children, start with just 4 cards. Make sure you play too and let your kids test your memory skills!
3. Traditional Memory Game. Print out 2 sets of cards. Flip them upside down and have your children match the cards.
4. Combine I Spy sets and use to sort. In my Nature Study Printables for Toddlers and Preschoolers book, I have 5 sets of I Spy Cards. You can combine the cards and have children sort by characteristics such as plants/animals, color, fur/no fur, living/non-living etc.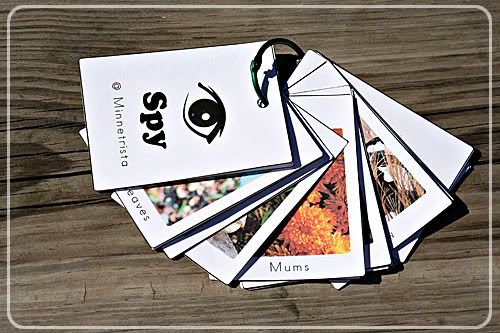 Have you used the I Spy cards yet? Have you come up with any unique ways to use them?