Yesterday I talked about taking a nature walk in your own neighborhood or backyard. We do that often, but we also have found other places in town to explore nature. Our local museum has awesome gardens to walk through– and the best part is that it is just minutes away!
With my young children, I have found that it is helpful to have an objective. For this particular nature walk we were looking for animals. How many different animals would we find?
Is this an animal? Nooo… but it sure looks weird! We made a mental note to look it up at home.
We're going on a nature walk and we're not afraid! Still looking for animals…
Finally! I spy two ducks! There is a drake and a hen. (See, moments like these are great opportunities for introducing vocabulary. I have printable duck vocabulary cards plus more duck-themed activities under letter D in the ABC section.)
Oh look! Another animal! What is this? Yes, it is a fish! Can you see its fins?
Nature walks aren't just for little kids either. Can you guess what my older daughters were looking at?
Yes! Frogs! Lots and lots of frogs. Some of the frogs we saw were pretty big!
We also saw at least 5 painted turtles (You can find more turtle printables and activities here.) We thought we'd see more birds, but I think we were a little too noisy. 🙂
Free Printable Nature I Spy Cards
My young children have enjoyed our nature I Spy games. Today I have the I Spy: Animal edition available. I've also linked to past nature I Spy cards that we've used.
 Download the Nature I Spy Cards: Animal Edition
I Spy: Spring Edition 
I Spy: Winter Edition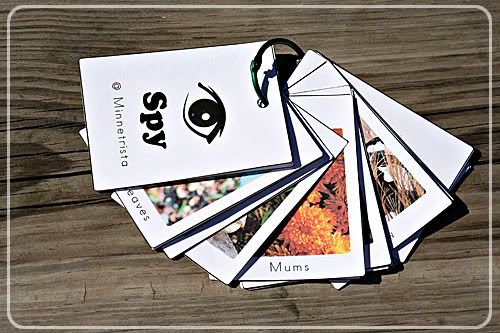 I Spy: Fall Edition
More Nature Study Printables

Do you like the idea of involving young children in nature study but not sure how to start? Do you need a little help being intentional with your nature studies? Nature Study Printables is full of printable tools for you to use to get young children observing and talking about nature!